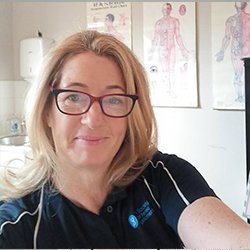 Rachel Richardson BSc(Hons) Physio MISCP MSOM
Chartered Physiotherapist
Skills & Services
Qualifying as a physiotherapist in 2000, Rachel has many years of physiotherapy experience across a broad range of conditions, Rachel has acquired specific skills in Manual Lymphatic Drainage, various types of Manual Therapy, exercise therapy including Pilates, Dry Needling, Western Acupuncture, Qi Gong, sports and Kinesio Taping and Orthotics as well as several complementary therapies.
With a firm ethos of evidence based medicine, all treatment interventions are in line with best practice and an ongoing commitment to continuous professional development.
Experience and Credentials
Rachel graduated from University of Ulster with an Honours Degree in Physiotherapy in 2000 She is a registered member of the Irish Society of Chartered Physiotherapists, MLD Ireland, and is CORU registered.
Rachel worked in the HSE from 2000-2005, gaining valuable broad experience in physiotherapy. At this time simultaneously working in private practice in Dublin specialising in musculoskeletal, sports and work related injuries. In 2005 she moved to Gorey joining the North Wexford Physiotherapy and Sports Injuries Clinic. In 2006 co-establishing Gorey Physiotherapy Clinic working closely with local GPs, sports groups and people with chronic pain. She established Gorey Physiotherapy and Lymph and Clinic in 2015.
In 2003 she became a member of the Society of Orthopaedic Medicine. Continuing over the years with postgraduate education to update and advance physiotherapy skills, accumulating many treatment techniques in the area of Musculoskeletal Physiotherapy. In 2018 she obtained a Certificate in Spinal Manual Therapy.
An APPI, BodyControl and Stott Pilates trained instructor, she is also trained in Orthotic Prescription, Women's Health, and Western Acupuncture/Dry Needling to name a few. Rachel is also qualified in several complementary therapy techniques. In 2015 Rachel has obtained the international qualification of Dr Vodder's Manual Lymphatic Drainage & Combined Decongestive Therapy to Level III. Rachel qualified as a Qi Gong instructor in 2020.
Why Rachel Richardson?
The many years of study and practice in both traditional physiotherapy and complementary techniques allows Rachel to offer patients a range of treatment options that will best meet your specific needs. We all know there is never just one way.
Discounts
School children and OAPs recieve a €45 discount on treatments. Also, a club discount rate of €45 per session applies to players from clubs who are registered with the clinic.
Physiotherapy fee is €55. Manual Lymphatic Drainage is €75.
To find out more about our services or to book an appointment please call 053 9480 861 or email us at rachelrichardsonmiscp@yahoo.ie
Shop pilates:
From bands and balls, to DVDs and books, clothing to bags and everything in between... Get your pilates supplies here!
Get 10% off your first order with promo code: RachelR
Areas Covered:
✔ Gorey
✔ Wexford
✔ Arklow
✔ Ballycanew
✔ Courtown
✔ Ballygarrett
✔ Blackwater
✔ Kilanerin
✔ Monamolin
✔ Ferns
✔ Enniscorthy
✔ Bunclody
✔ Riverchapel

Services
Take a look at our range of services to see how we can help you!



Discounts
School children/OAP discount €45. A club discount rate (€45 per session) applies to players from clubs who are registered with the clinic. Physiotherapy fee is €55. Manual Lymphatic Drainage is €75.



Contact Us
Contact us today to book an appointment or to simply find out more!